Decoding the formal dress code
At least once in a lifetime all of us has to dress more formally and follow a certain dress code for an event.
Most frequently we are required to be specially dressed for wedding celebrations when the newlyweds put a specific dress code for the guests in the invitations.
However, there are other types of events, such as company cocktails, charity balls, New Year celebrations, personal celebrations, that also require special clothing.
Why is it good to follow a certain dress code and who is it suitable for?
Following a certain dress code applies to people of any age (even children), culture and gender. On one hand, it shows respect for the hosts and the event itself, and on the other hand it shows that you take the event you are invited to seriously.
There are 4 main types of dress codes.
Very often, when there is a dress code written on the invitation for an event, there are also additional details and explanations. For example, if the dress code is "Creative black tie", it can be added that the ladies are required to have a hat; another option is to require a certain color gamma. This helps the guests to get a full picture of the type of event they are visiting and definitely makes it easier for them.
White tie dress code

This is the highest level of elegance when speaking about an event dress code. It could be said that this is a dress code not required for many of us to follow, since it is more popular for receptions, royal visits or a Viennese ball. The requirements are mainly for the gentlemen that need to follow a very strict etiquette and consistency in clothing:
For men:
A tailcoat with black trousers with one or two satin strips in the side stitch;
White shirt with solid forearms;
White bowtie;
Cufflinks;
White vest;
White or gray gloves;
Black shoes (usually patent leather shoes) with black stockings;
For ladies:
Long evening gown;
Long gloves over the elbow (optional);
Black tie dress code

For men:
Black tuxedo with black trousers;
White jacquard shirt or with pleated parts on the front;
Black bowtie;
Cufflinks;
Black waistband;
Black vest (optional);
Black formal shoes and black stockings;
* if the event is in a very warm place, a white tuxedo is allowed;
For women:
Long evening gowns;
Cocktail dress to the knee;
The fabrics are heavier, more elegant, layered and often with shiny threads;
Creative black tie dress code
For men:
Тhe official Black tie dress code is being followed, but here we have more boldness and an artistic note the gentlemen can express by with a bowtie different than black, as well as a more innovative pattern. It is also appropriate to replace the white shirt with black or the tuxedo to be different than black but again in a dark shade;
For women:
Formal dress code is followed again, but now ladies can add a brighter and a larger jewel, an extraordinary decoration for their dress, or a scarf made of fur or feathers;
Black tie optional dress code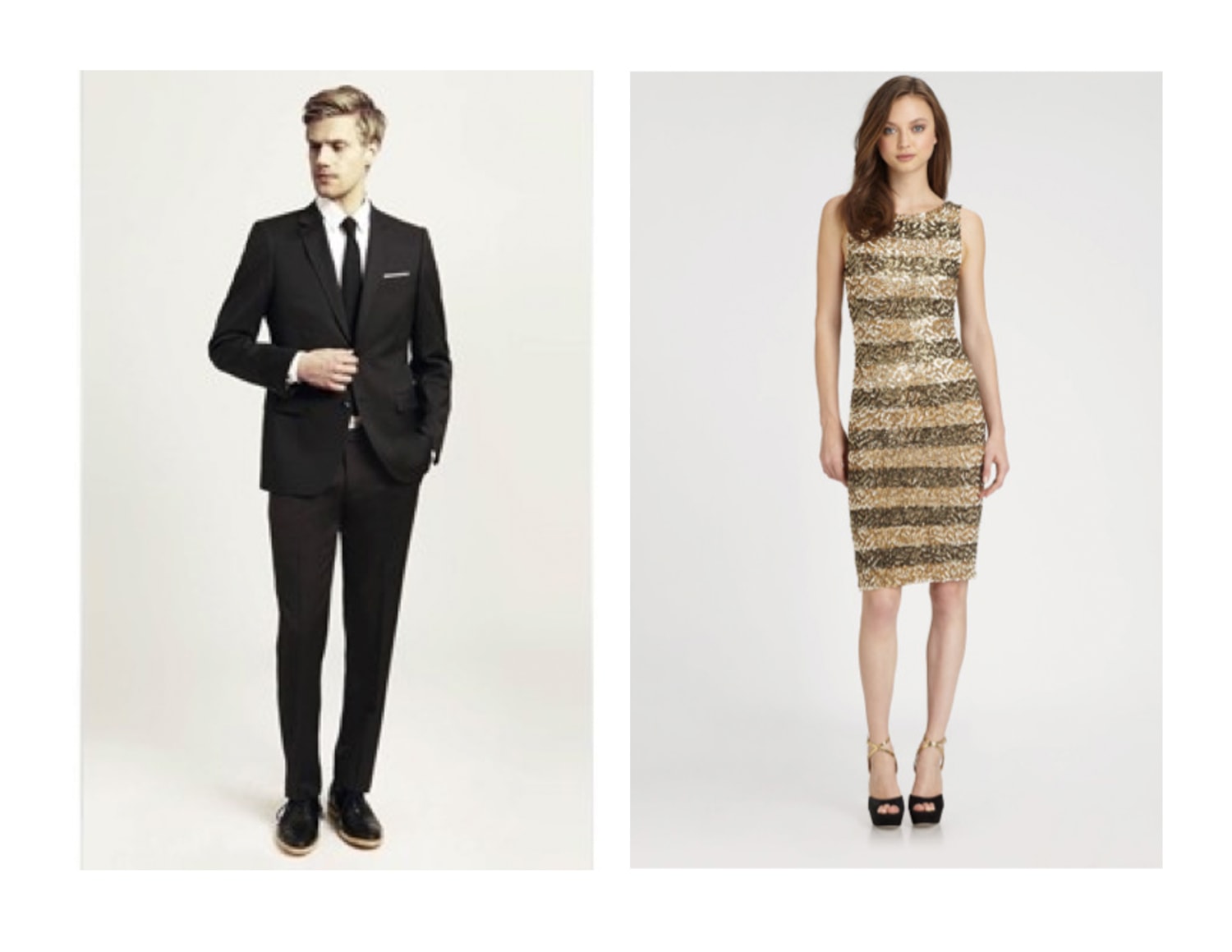 For men:
Free choice between a standard black jacket or follow the formal Black tie with a tuxedo;
Black trousers;
White shirt;
A conservative tie or a bow tie;
Black shoes and stockings.
For women:
Long evening gown;
Cocktail dress;
Little black dress / a nice sophisticated version/;
Two-piece clothing – skirt and bustier or blouse'
Semiformal dress code
This is one of the most popular types of dress codes when talking about a company event or a cocktail, because there we should be both elegant but with a casual touch.
For men:
A suit in black, dark gray, dark blue;
Official shirt in different shades or patterns;
Official shoes in dark brown or black color;
For women:
Dress in a non-strict style, length around the knee;
Little black dress;
Two-piece outfit
Festive Attire dress code

This is the most liberal dress code that gives significant freedom to the guests and an opportunity for individuality display. It is sometimes called casual, but that does not mean we can afford to visit the event in jeans, T-shirts or non-matching clothes.
For men:
Seasonal sports jacket;
Sports chinos in various colors;
Shirt – can be worn with an open button at the collar;
Necktie is not mandatory;
Various types of shoes and even loafers are allowed;
Various accessories, including suspenders;
For women:
All-length dresses made of light and soft fabrics;
Jumpsuits and trousers are allowed;
All colors and designs such as floral patterns, squares and stripes;
Clothing including uncommon combinations and fun accessories, as long as they are appropriate for the theme of the event;
In case we receive an invitation that does not explicitly state how to dress up or even if there is no invitation whatsoever, then it would be a good idea to investigate how the event is expected to pass and where it will take place. Depending on whether it is a daily or an evening event, for example, we can easily judge the shade of our outfit to begin with. More colorful outfits are suitable for daytime events, and for the evening – darker outfits and even silver and golden references are allowed.
In case we afford to wear clothes that are not suitable for the place we go to, we risk to make a completely wrong impression of ​​who we are as a person.