How to choose and match women's belts
Women's belts are а really special part of accessorizing. They can be worn on a loose piece of clothing that needs to be tighten up or just as a nice piece of jewelry matching with the whole look. Here you will learn what are the rules matching women's belts.
There are generally three ways to wear a belt:
– on the natural waist;
– on your high or low waist /for women that don't have well defined waistline/;
– to keep your pants up;
Each of these ways has its own specific look and attracts attention to different part of the body. Match women's belt as a pro:
When it comes to the belt on the natural waist /lower or higher/ you can wear it with a dress, over a cardigan or a sweater, or even with a trench coat and a coat. It is of major importance to know that wearing the belt on your waistline defines that particular part of the body. It makes your body seem in great proportions and it's a nice opportunity for you to demonstrate your own stylish touch.
When it comes to belts for pants and jeans, the width is vital. The bigger the loops, the thicker the belt should be, otherwise it will shift up and down, becoming unstable. When the pants don't have loops you are not supposed to wear a belt with them, therefore they must be perfectly sized for your body.
Golden match rules:
Belts between 1-2 cm width match great with dresses;
Belts between 2-5 cm width match best with jackets, sweaters, cardigans, coats and trench coats;
Belts between 3-4cm width match best with pants, skirts and jeans;
Belts between 5-12 cm width match great with dresses or emphasize the waistline when you wear pants and a top or a skirt and a top;
Thin and metal belts look more like jewelry and match best with dresses and coats;
* Yes, there are some exceptions 😉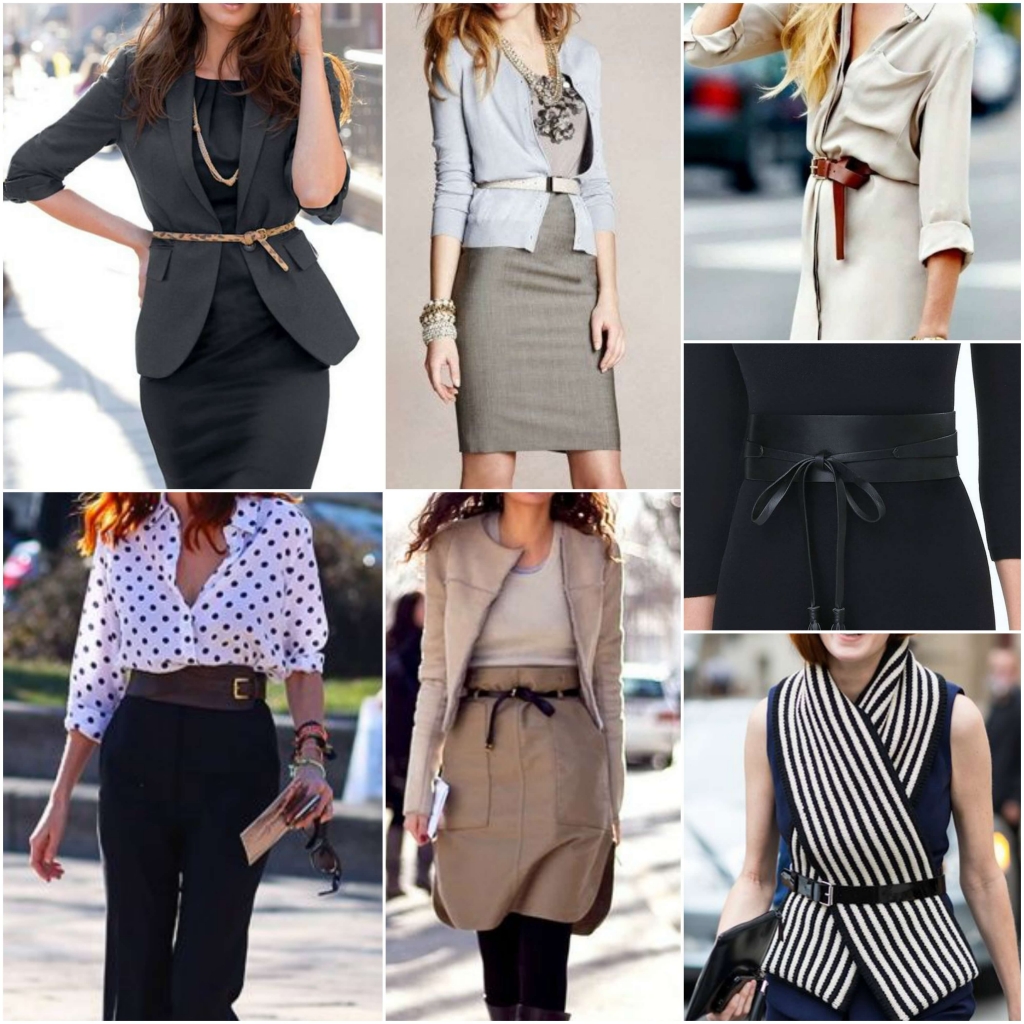 Type of belts and how to choose them related to your BODY TYPE?
Thick waist belts are great for women with longer torsos because they help shorten their upper body and make them look more proportional.
Short-waisted women, on the other hand, look better with narrow belts because they don't cover up their midsection and make it look like they go straight from boobs to legs.
And more:
Think of your belt as a piece of jewelry: If you wouldn't wear large chunky, antiqued gold jewelry, then don't buy a belt with a big, chunky, antiqued gold buckle. It is not necessary to match your belt buckle to your jewelry, but you want them to feel like they suit each other.
Knotting the end of a long belt: This is a great option for casual outfits — just make sure your belt is long and soft enough to lie properly and doesn't stick out at an odd angle or dig into you awkwardly.
Matching your belt to your shoes: There's nothing wrong with matching your belt to your shoes, but it is certainly not a must. Matching will make you look polished and pulled together, but it's also a very conservative look. Mismatching is better if you're going for something more casual and fun.
Get the right length:Ideally, you want your belt to fit on the middle hole. Any shorter and it would look stubby. Any longer and the tail may not lie flat against your body and you don't want it sticking out and getting knocked every time you move your arm.
Make sure your belt compliments your style:Don't try to make your belt say something different from the rest of your outfit. The first thing you need to do is identify your own personal style and then make sure that the belt you wear represents the whole idea of the outfit. What I mean? If you are dressed casually, your belt has to compliment this kind of look. For example, elegant golden or silver belts go well with smart attire, whereas knitted belts go with more casual and sporty outfits.
Tia Stankova is a world class fashion stylist. She has found better looks and styles for women around the globe.
She's written two fashion books for Kindle and she's currently working her next project called, The Psychology of Clothing.
Tia has appeared on television many times, commenting on fashion, fashion choices, celebrity styles and events.
Her 17 years in the clothing and fashion industry have been unique in many ways.