Will Meghan Markle change the royal style?
Prince Harry's fiancé, the popular actress from the TV series "Suits" Meghan Markle, is definitely one of the ladies that caused huge media interest during the past few weeks. The reason, of course, was, above all, the engagement of the handsome couple, but also everything connected to Meghan's upcoming joining to the royal family. It is still unclear what title she will be given and how the wedding ceremony will go on, but there are a few guesses and assumptions on the subject. Another much debated topic is Markle's style and whether it will be transformed in any way after officially becoming part of the royal court. Is she going to adapt to royal style or she is going to change it?
What is the current style of Meghan Markle?
As a typical lady born and raised in Los Angeles, Meghan's style is informal, casual, with lighter fabrics that give the body the freedom to move and breathe. Moreover, we can safely say she definitely prefers clean lines and silhouettes. Part of the general sense that remains is for a slightly rebellious spirit that does not like limitations. Even during her first public appearances with Prince Harry, she created the impression of choosing casual look by wearing knee-torn jeans and an oversize white shirt.
During the announcement of their engagement, we saw the Prince's sweetheart in a whole new way – dressed in an elegant white coat. This inevitably causes us to think that perhaps every next time she will comply with the protocol of the royal style.
In fact, transforming into various roles and, respectively, outfits is nothing new and different to Meghan. Once joining "Suits", she embraces her new character Rachel, transforming herself into a strickingly elegant lady. She says that she had to do this transformation because the fans were expecting that of her.
Meghan Markle and her capsule collection of dresses.
A little known fact is that Prince Harry's future wife created a small capsule collection in 2016, in cooperation with Canadian retail company Reitmans. The collection includes four dresses, completely different from each other, because the inspiration for them is a different part of the beauty sense of its author Meghan. Her experience as a designer may be highly valuable for her, building her unique style in the context of her new role in life.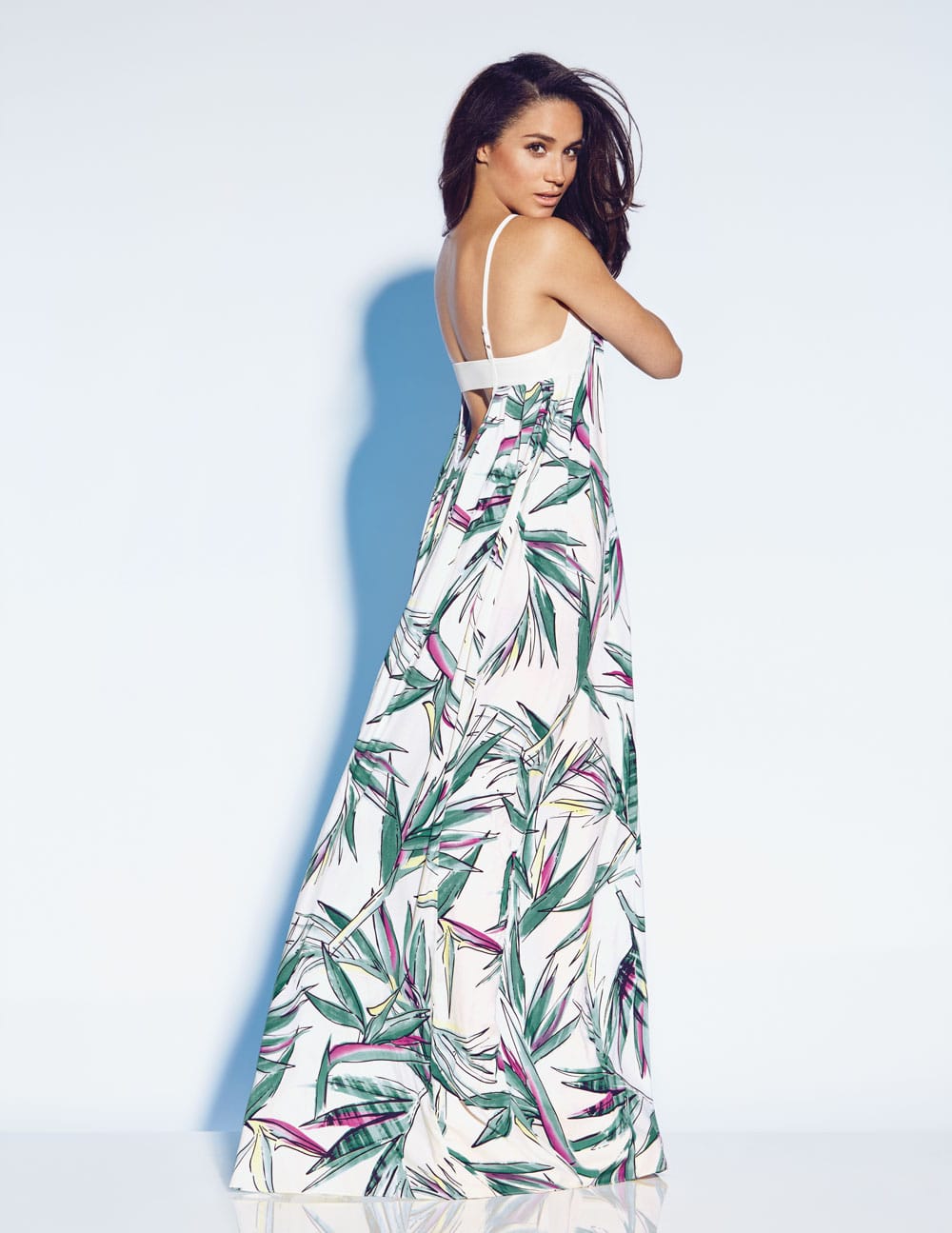 What is the style of the other ladies in the royal court?
For the past 100 years there have been three remarkable ladies with fabulous royal style and wardrobe. Undoubtedly the most memorable amongst them is Princess Diana, her style leaving serious traces in fashion and will not be overstated if we say it affected the way women dress all over the world.
Her style is characterized by femininity and romanticism that we can feel in elements like ruffles, draperies, laces, pastel colors, soft and delicate fabrics that speak of a deep sensitivity. There is hardly a person who does not remember the remarkable taste she demonstrated in her outfits for every event. In the years Diana became part of the royal family (late 80`s and early 90`s of the 20th century), high shoulder pads and strongly expressed shoulders were a trend, but gave a tall woman like her additional height she did not need. Thanks to her innate sense of beauty, however, she has managed to transform this trend into her advantage.
As a little girl, Diana was captivated by ballet and even practiced it professionally during her school years. Her athletic figure has preserved over the years and allowed her to wear various cuts, lengths and colors, but always coordinated with the event protocol. Perhaps this closeness to the delicate world of ballet makes her so sophisticated and helps her uncover her style as we still remember it today.
One of her biggest passions were custom-made shoes, created especially for her by popular shoemaker Jimmy Choo. The reason was the Princess's desire not to look taller than her husband, who was almost as tall as her. Each pair of shoes was color-coded with the specific combination of clothing and regardless of the design, the heel was medium and rather low.
The lady whose royal style she was supposed to follow, was one of the most conservative, and it was no surprise that Diana had the desire to break it with the years. Yes, it is Queen Elizabeth II!. A woman who is always very simply dressed and consistent in her choices of clothing and is definitely a woman with character.
Taking the heavy role of being a Queen at the early age of 26, Elizabeth was forced to build a solid image in the eyes of society in order to be  seen as a real and serious woman. Of course, her looks becomes a part of this image, staying almost unchanged for nearly 70 years.
We can say without any hesitation that one of the trademark elements of Queen Elizabeth II are her pearl necklaces she wears in almost all combinations, and rarely changes for another accessory. Another typical item in the Queen's royal style are her hats that are always and necessarily combined with the overall outfit and color, as well as design. Her hairstyle also goes unchanged over the years and remains the same length. As for clothing, Elizabeth usually trusts the knee-length topcoat, combined with dresses that are often not completely covered or, in somewhat rare cases, wears only a dress with a simplified and conservative style.
The majority of the Queen 's outfits are highly colorful and we can often see her in colors like yellow, cyclamen, bright green, royal blue and similar. It is believed that behind these choices stands the precise judgment that when the Queen is amongst a crowd, she will be far more noticeable than if she wears fainter shades.
The style of Kate Middleton, on the other hand, shows a far more modernized flow. Even in the years before becoming part of the royal court, Kate used to dress rather simply, meticulously and without any excessive accessories or elements. After marrying Prince William, she became the new fashion icon on the Island, carefully being monitored what she wears. Over the years, the so-called "Kate Middleton Effect" appears – everything she wears is sold out of stores as soon as she has been spotted wearing it.
We must admit that Kate Middleton has a highly dressy and elegant sense of aesthetics and beauty, which may well be built additionally by her education in History of Arts. A large part of her wardrobe conforms to her figure and includes dresses and skirts that are cloche or cut out. The reason is her narrow hips and strongly expressed shoulders, always visually balanced by adding different elements such as effect /ruffles, prints, embroidery and others/ in the lower part of the body, where she is thinner. This adds a lot of harmony to her appearance.
One of the trademark elements in her wardrobe are shoes in neutral/nude she wears very often and combines with many outfits. Another typical element is the wrap dress that adds amazing femininity and highlights her waist. In cases where she needs to wear pants or jeans, Kate always prefers skinny cuts that show off her fine and slender legs.
Overall, her royal style is very meticulous, tidy, slightly conservative, thoughtful, and always tastefully selected for the occasion. As a worthy lady of the royal court, Kate never comes out of the good tone of either bold combinations or colors.
Who are the designers taking care of the royal ladies' clothes?
Generally, the royal court is a very traditional and consistent place as far as fashion experiments and innovations are concerned. Elisabeth II's wardrobe is being taken care of exclusively be British designers and stylists. Since 2002 her stylist and hatter is Angela Kelly, who looks after every single detail of the Queen's appearance.
Princess Diana herself was highly consistent and also chooses British designers during the first years after marrying Charles. Most often we could spot her in clothes of David Emanuel, Burrberry, Bruce Oldfield. Some of the most emblematic appearances (over 1000) were created or selected for her by designer Catherine Walker. Over time, Diana began to notice also Italian and French designers and was seen wearing Dior and Versace every once in a while.
Kate Middleton adds her unique, royal-style artistic talent by skilfully combining high-class clothing or jewelry with middle or even low-class brands. It is no coincidence there are websites that sale Kate's look, as her combinations are often quite affordable. Of course, most frequently she selects British designers and brands, such as Jimmy Packhman, Burberry, Preem, L.K. Benett, but oftentimes we could see her wearing Tony Burch, Oscar de la Renta and even Zara dresses.
What dress can we expect of Meghan for her wedding day?
Certainly, what we can expect from Meghan Markle's wedding dress is to be expensive. If Princess Diana's gown was made by designer David Emanuel for $ 150,000, and Kate Middleton`s – by  Alexander McQueen for $ 400,000, then we can assume that the gown for Meghan's "I do" will surpass those levels. Some analysts believe she will in turn trust Alexander McQueen to create her dream dress.
Still, with everything she has demonstrated so far as a lady who definitely has an incredible sense of beauty and a skill to transform, we can expect to see Meghan in something different but at the same time elegant and simple. She is unlikely to follow Kate's example with lace covering the arms, and on the other hand, it is implausible that she would prefer a heavy and multi-layered bottom such as Princess Diana's gown. Most probably, Meghan will leave her own mark in the royal style, which is likely to begin with a dress, revealing her unique individuality.