20 Top Trends Spring – Summer 2018
With the approach of the warmer days, we are beginning to replace the winter wardrobe with lighter fabrics and designs. We could hardly not think about something new to add to our outfit. That is why today I will share with you the top trends Spring – Summer 2018 according to designers. The suggestions are numerous and various but let them serve you only as an inspiration for your individual look. Always go for what you can easily implement in your closet and what suits your style best.
COLORS
Pastel colors
This trend has often returned over and over again during the years. The reason is, of course, the fact that pastel colors are delicate and beautiful, reminiscent of the colors of nature in spring. This year, however, along with the gentle blue, yellow and green, there will be lavender in focus on many designs. As we already know, Ultra Violet was defined as the color of 2018, and lavender is a pale version of it.
Check
Squares in all sizes will be amongst the leading trends spring-summer 2018. Here I need to specify that we are talking mainly of two-color squares, a combination of white and black, white and blue or white and red. In some cases, we will encounter other variations. This season squares will be combined with other squares and this will sufficiently change things. A true game of squares and colors.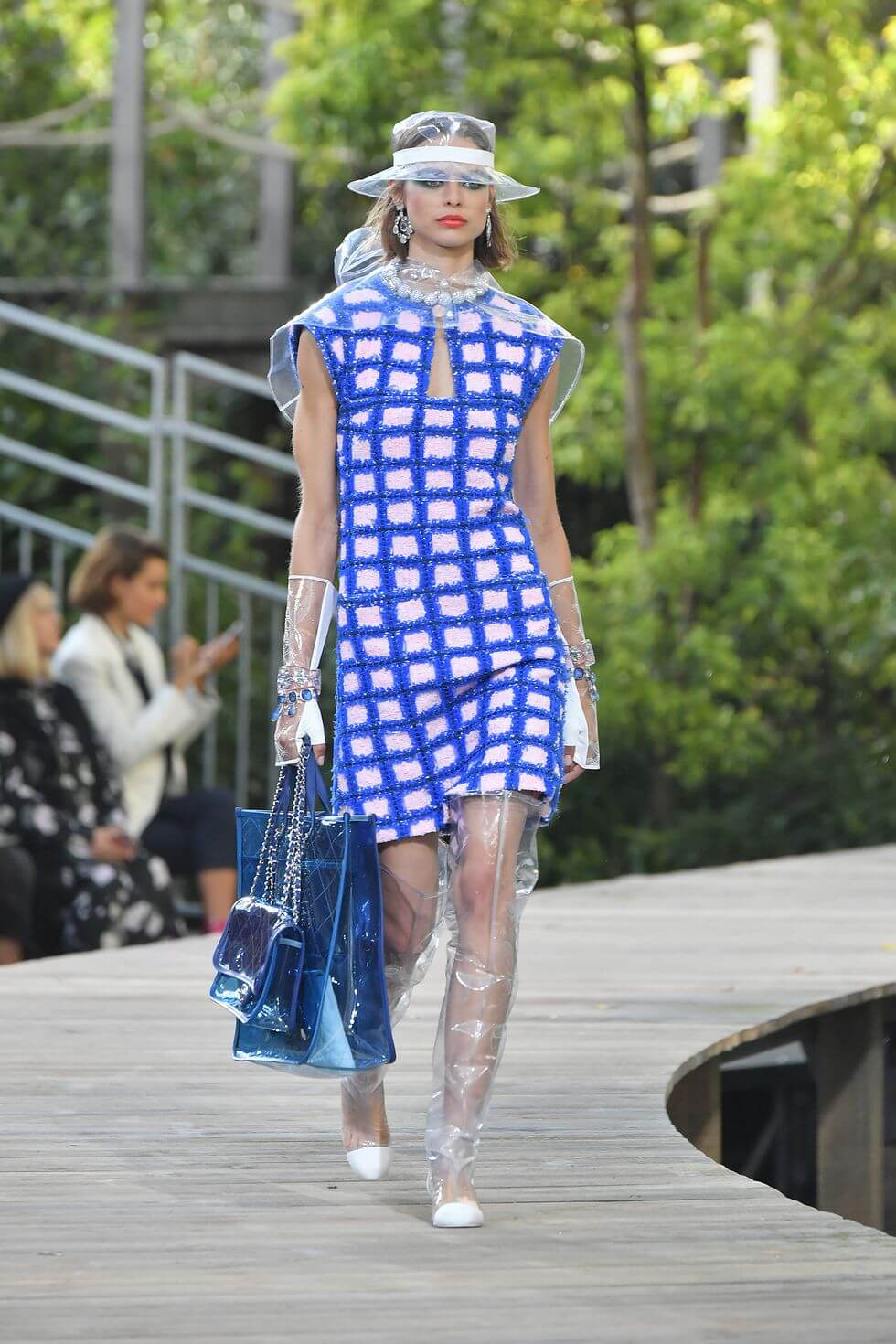 Stripes
Yes, we are talking about that stripe that resembles a rainbow. It will be present both as a pattern, as well as fringe in the hem. You'll notice it in dresses, jackets, pants, blouses, shirts, even in swimwear.
Big logos
The official return of the big logos will be with the new trends spring-summer 2018. We will see them on T-shirts, bags and jackets. Some of the brands demonstrating it the most during fashion week are Balmain, Gucci and Versace.
CUTS
Shorts and Bermuda shorts
We are accustomed to seeing shorts as a sportswear and for leisure time, but this time designers offer combine them with a jacket. This provides the opportunity for shorts to be used even in the office where they are usually avoided. Depending on the length, pattern and workwear, these pants can be modified for different ages and preferences.
High rise
For several seasons now, the waist in the ladies' wardrobe seems to get higher, but this season the trend will be for an even higher waist. Can you imagine it? We are talking about the waist even above the bellybutton! The varieties you will encounter are mainly two. In the first option the belt is firmly tight to the waist, and the cut is wide and loose. In the second not only the belt, but the whole trousers are very tight and skinny. Whichever you choose, you should know that the high waistline is extremely feminine, lengthens the legs, and in some cases visually reduces the waist and hips width.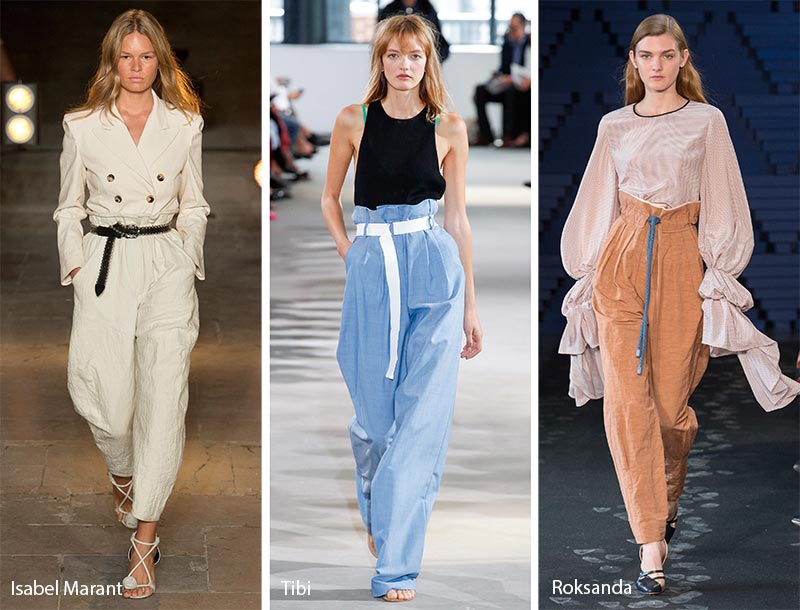 Sheer look
Time for romance! Yes, the new trends spring-summer 2018 will give opportunity to all romantic ladies to manifest their preferences quite freely. Many draperies, ruffles, flowers, fairy, long skirts and Victorian décolleté. These will be a big part of the suggestions you will be able to choose from.
MATERIALS
Transparent fabrics
Transparent materials acquire a new dimension this season. We will see them everywhere and, in all forms – from dresses, jackets, trousers, skirts, belts, hats, even to the already familiar variations of bags and shoes. All this will be possible thanks to two materials – tulle and PVC plastic. Due to the mesh structure of the tulle, it is quite pale and pastel, wherever it is used. In order to make this trend wearable, however, we should consider putting linen in the places where we feel the transparency is too much. We will discuss PVC below in the "bags and shoes" section 😊
Denim
One of the most popular and favorite trends this season is denim. The difference this season is that we will often see it in its raw form, particularly without worn out sections and tears. On the contrary – it will be hard, one tone, and traditionally all decorative stitches will be colorful and contrasting. With denim we will also notice the so-called patchwork that will create the sense of designs created by old jeans and clothes. For the more skillful ones, this may be a nice fun activity and an occasion to create with your hands.
Sequins
We are used to seeing sequins as part of our evening outfits, especially popular around Christmas and New Year parties. However, this is about to change with the trends spring-summer 2018. Sequins are boldly entering our everyday life and it will be perfectly fine if you wish to wear them during daytime. Whether it's only a sleeve or a decoration, or a jacket, skirt or blouse entirely of sequins, this is a way to express your personal preferences and creativity. The most popular will be silvery, golden, oxidized.
Feathers
One of the most controversial trends this season is feathers. Some prefer them, others consider them unacceptable. Whatever the case for you, know that feathers will be present everywhere in the clothing – in hem, as decorations and individual elements, as well as clothes made entirely of feathers. We are accustomed to having the feathers hidden in our wardrobe in the form of fluff inside jackets and blankets, but this season we are proudly showing them outdoors, and in a variety of colors, too.
Fringes
Inspired by country culture, fingers and ties will be very common in our clothes this season. Unlike other times when they were in style, this time they will be longer and more colorful than ever! Most often you will notice them on the hem of different blouses, dresses and sleeves, but there will be also entire items made of fringe for the more extravagant of you.
FOOTWEAR
Daddy's shoes / a.k.a. the ugly shoe trend /
In September 2017, right after fashion week in the different fashion capitals, supermodels were spotted with this top trend! The idea arises from those rough and bulky sports shoes that men often wear. They are not feminine at all, but are extremely comfortable, and that is why quickly gained popularity. If you find it too bold to get you a pair of those modern sports shoes, you can bet on white shoes with a lightweight platform. This would still keep you on the fashion line.
Transparent shoes
Made of PVC plastic, transparent shoes are flexible and soft. They allow the feet to move freely, but unfortunately, deprive them of access to air and that is often unpleasant. If you are seeking comfort and air for your foot, you might want to put this trend into your wardrobe first in the form of sandals, and afterwards think of bolder suggestions like shoes, boots, and others. Plastic shoes are beautiful in their unique way and provide a whole new reading of the familiar models.
Straps and ties
Similar to clothing, trends in shoes are expected to include quite many straps, ties and fringes. Very often this season sandals will be tied around the ankle or knee.
Glittery shoes
The glow that will accompany the spring trends will surely shift into the shoes as well. With some of the shoes we will even notice eclectic patterns combining textures and colors that are bold and provocative by themselves. There is a remarkable elongating of the tips of the shoes and reduction in many of the trends for the new season.
Platforms
The platforms are making a comeback and are boldly making their way to our wardrobe where they will stay for a few more seasons to come. The reason, of course, is their comfort. We will see them in a variety of shapes, designs and colors – sport shoes, combat boots, sandals, even slippers.
BAGS
Penny pack / belt bag
This extremely handy model emerges as a convenient option for the bag of the working-class person to carry their lunch. In the 1980s, however, it was presented with a new look in which you can carry your personal belongings and documents. The belt bag`s current up-to-date is thanks to Rihanna, who began wearing it shortly before incorporating it into the collection she created for Puma. Fenny pack quickly gained popularity in the past season and can now be found in a variety of models, sizes, designs and colors.
Knitted bag
A trend that began in the late summer of 2017 but is expected to continue in full force in the spring and summer of 2018. The new models offered by the designers are combined with leather, various shapes and different lengths of the handles.
Transparent bag
Just as we will see transparency in clothes and shoes, it will be present in bags as well. PVC plastic bags are often available in hard forms such as boxes or in a more casual version with lining for keeping personal belongings. If you decide to bet on this trend and choose a transparent bag to be part of your wardrobe this season, you may well be alert of the things you put inside – not something to worry about, or use an extra internal bag that will guarantee your discretion.